Remember back after Trump announced his lie about removing nuclear weapons from the Korean Peninsula – – – and how the crowds of admiring goobers at his rallies chanted "Nobel! Nobel!" — as in Nobel Peace Prize?
Remember that?
Well, the winners are announced and Trump was not even on the list.
The 2018 Nobel Peace Prize has been awarded to Denis Mukwege and Nadia Murad for their efforts to end the use of sexual violence as a weapon of war and armed conflict.
Mukwege, a gynecologist and surgeon, has long worked to treat thousands of women and girls affected by rape and sexual violence in the Democratic Republic of Congo.
Murad is a Yazidi woman from the northern Iraqi town of Sinjar, who was held as a sex slave by ISIS, she told CNN in an interview last year. In 2016, at age 23, she was made a UN goodwill ambassador for the dignity of survivors of human trafficking.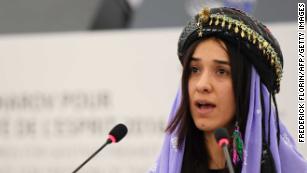 It's especially significant that the award went to two people who have worked to end sexual assaults against women . . . while the US is ruled by a serial adulterer who is known to have assaulted at least 19 women . . . and while the US has just put onto our highest court an attempted rapist.